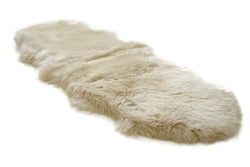 Yellow Earth Australia
Linen - Super Double Length (210-220x65cm) - Long Wool Sheepskin Rug - Australian Merino Sheepskin
For peace of mind, we offer a 30 day return period to help you make the right decision! Please check out our
returns & exchanges policy
for more information.
The stylish Linen colour is subtle yet intriguing. Tanned from Australian Merino sheepskin, these rugs are thick, soft and plush, perfect to snuggle on and compliment any home decor. Made locally in our Melbourne factory.
This super double length rug is perfect to put on your sofa, as a bedroom floor runner or on your cozy recliner chair!
Size:
The size of this rug is approximately 210cm length x 65cm wide. We are quite conservative with our sizing, and actual rug may be slightly larger. We measure our rugs from the pelt (leather) side only, and do not measure the wool fibres that extend out, which would increase all dimensions by at least a further 10cm.
Please note: These rugs are made in-house to order, so we require several business days to make the rugs and get them ready for shipping
100% Natural Products

Australian Merino sheepskin

Available in

 

other stylish colours
Approximate size: 210cm length X 65cm width
Care instructions: Cold wash using a Woolskin Shampoo, dry in the shade, or otherwise professional dry-clean. We offer a specially formulated Woolskin Shampoo on our website available here. More information on how to clean and take care of your sheepskin rug can be found here.

Please note as these are 100% natural products, the colour may vary slightly between rugs and what is seen on a computer screen. If you are planning to buy 2 or more of the same colour, we recommend ordering them together in one order. As colour dyes can vary slightly between batches, we cannot guarantee that rugs sent in separate orders will be identical. However, if placed together, our team will do our best to check and select matching colours for you.
We also recommend placing the sheepskin rugs out of direct sunlight or moving them around on a regular basis. Direct strong sunlight and UV may cause colour dyed sheepskin to change in colour over time.
Lambskin squares
Oh my God, the squares fit perfectly in our car seats and add so much comfort when driving. They are so soft and comfortable.
Motel3858 Heyfield
We bought 12 sheep skins for our motel they arrived super quick and where exactly what we expected. Very happy
Fantastic product
Exactly as described and a perfect overhang shaggy fit for my dining chairs.
Together with first class delivery service I'll certainly recommend to everyone.
Double length sheepskin
These are perfect for hot Queensland summers and snuggle warm in winter.
I bought 1 and loved it so much I bought 2 more!
The Linen colour is very nice.
Thanks for the 5-star review and photo! That looks like an awesome setup :D
Large lambs wool
Easy to order, delivery quick. Very pleased with the periodic, it is perfect , will order again