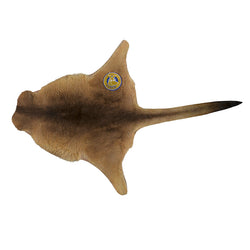 Samos
Kangaroo Skin Hide Rug - Medium - Made in Australia
For peace of mind, we offer a 30 day return period to help you make the right decision! Please check out our
returns & exchanges policy
for more information.
The Kangaroo is one of the most popular native Australian animals. The Kangaroo is unique to Australia, thus making the Kangaroo skin such a popular souvenir to overseas visitors.

There are two species of kangaroos. The Eastern Grey Kangaroo (Macropus Giganteus) and the Red Kangaroo (Macropus Rufus).

The Grey Kangaroo is known for its longish grey hair. There is no distinction between male and female on the finished kangaroo skin rug.
About our brand:

The Samos brand has been in existence since 1969 and Samos is now one of the largest Tanners, Manufacturers and Wholesalers of Kangaroo Skins, Kangaroo Scrotums and Sheepskins in Australia. For more information on our brand and products, and for information on wholesale opportunities, please visit the Samos Official Website.
Received the roo skins quickly and they were great
Am taking a gift overseas and these arrived promptly and were as ordered. Thanks